I love to refresh my playlist and share fresh or old music every week. Everyone enters the new week with a different mood, but most wake up with the attitude to be productive and focused on the new week. 
Still, on the second chance, its meaning doesn't change because its two weeks old. It's a process for me and everyone whom the lyrics touched so. 
I can't even talk about the healing process of the mind, a close friend at my wedding was dating this guy for almost 12, and she was the first person to send me a message, all this while she had been in a physically and emotionally abusive relationship. 
She shares the song and a part of the lyric where I sang "time I had wasted, tears that I tasted lost in myself but I upgraded" was her power line, and I started receiving messages about these words from different people.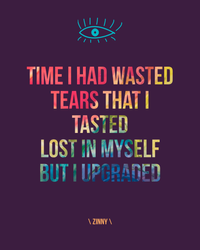 At this moment, I realized that we are more similar than we are different. Life will teach everyone a lesson, but this lesson will come in other names, faces, people, and situations. Music is writing your story, so everyone who has experienced it will feel connected in a way. 
Releasing this song and the visual was empowering for me. In Tiwa Savage's recent interview, and she said some things that stuck- 
Many creative wastes away because they give up and complain about how they have no time left. 
You live and breathe; you have time in the world until you have no time (when you are dead). 
It's okay if you've not figured out many things, don't let people's expectations get to you. Learn, move, and grow at your own pace because the world is significant for everyone. Most people figure out their lives in their 30s. The only time you fail is the day you give up. Don't give up. 
Comment and share 
Talk soon