How are you? 
This question is one we often ask expecting a fine or I'm doing great but let's be sincere we are not fine all the time but we don't want to express ourselves because we assume no one listens or gets it, others have their own troubles or because we prefer to pretend, we have our life affairs in control. All these options are valid. 
The times I don't feel like talking to anybody about what's bothering me, I write in my memoir. It's incredible how clear you can be when you don't have to hide from yourself. I record how I feel and close that journal. This way I can deal with my emotions better. Always remember you are not alone. 
An entertaining story about my first ever online stream concert coming one, two, *drum rolls*. When the pandemic started, in 2019 we all thought it would be like a cheap package we could ship back in a few months. 
Fast forward to 2021 the world is yet battling to revive from this ravaging monster named Covid (I spit on you). Businesses, stores, schools, and concerts have all locked down, leaving us at home binge eating and watching Netflix like crazy. I miss the outdoor activities, socializing, my band rehearsals, and gigs. Musicians are evolving as we are all learning to apply social media even better in placing ourselves out there. Then entered the online concerts: - Performing for your fans via Twitch, YouTube, or any other streaming channels. 
An acquaintance who's in the music business called me about an opportunity to perform live in December 2020. I hopped on the offer because we are seeking to stay significant *Rolls eyes* and I love new opportunities to promote my music to the world. 
At that point, the restrictions for movements in Hungary lasted until 8 pm every day. I chatted with my bandmates, and I got reserved feedback, but I tried to inspire them that this is beneficial for us as a crew. More content and publicity. 
We started rehearsals once a week in a well-ventilated space and distanced from each other, again our lead guitarist would not be free because of a family business we had to consider a replacement thanks to our pianist we could. On the day of the first practice session with the new lead guitarist, it was a touch-and-go experience, but we managed until the 2nd rehearsal and the full set was coming together. 
Two days to the live gig, I got a lengthy text message from a member of our band about his doubts once again and the reassuring continued because I would not withdraw out of an opportunity to perform to my audience tuning in from all over the world. 
D- DAY 
I arrived at the set and the organizers-1liveHungary were setting up for our stream. After 30 minutes, my bandmates arrived one after another to set up the instruments for an hour set with interludes and taking questions from the viewers. 
I was ready, ordered two cans of cold beer (we call it mortuary standard in Nigeria). Earlier that day I bought my Audiofly in-ear monitor, and I was dying to use it. Next, it was the instrumentalist soundcheck, then it was the vocal soundcheck. 
In summary, it was an amazing experience with my band and guests who watched from Hungary, Austria, China, Japan, Nigeria, UK, and a few other places. I enjoyed every bit, and it ended so fast * a sad face*. 
Remember, you are not alone. :-) 
Thank you, 1LiveHungary.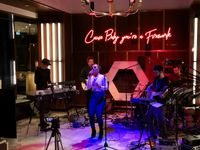 Click Zinny and The Juicy Magic Band - Koncert Kezdés
Would you like to watch me perform more live concerts?
Drop me a comment and tell me if you watched the video from this blog post so I can give you a shout-out.